Home > Promotions > Mid Year 2023 Promo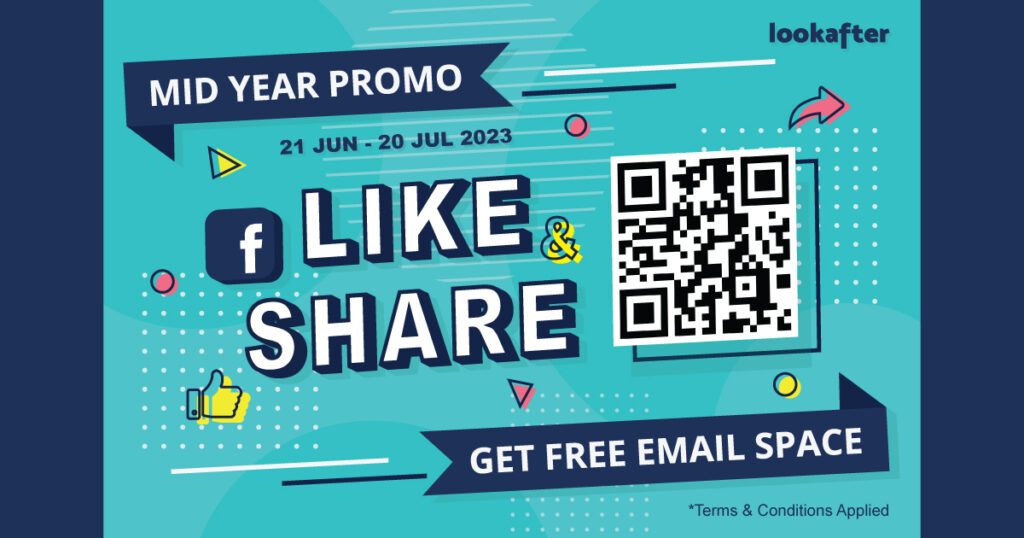 Join the exclusive Lookafter Mid Year Promo from 21 Jun – 20 Jul 2023 to get Free Email Space for your domain!
Just by doing 3 easy steps:
Like & follow our Facebook page: https://lookafter.com/fb/
Public share & like our post: https://go.agnx.com/9Q
Email us a screenshot as proof to avail the promo.
Lookafter Mid Year 2023 Promo Terms & Conditions:
The promo is eligible for Lookafter email hosting customers only.
The promo is valid from 21 Jun – 20 Jul 2023. All entries must be received within this period to be considered valid.
To enter the promo, participants must complete all of the following steps:
Participants must ensure that their Facebook account remains active throughout the promo period. Entries will be verified, and any incomplete or invalid entries will be disqualified.
Each entry must be entered by a unique Facebook account.
Each entry is eligible for the promo of one domain account only.
If entry is qualified, free email space will be allocated to domain account within 7 days after the promo ends.
Free email space is non-transferrable and can only be allocated once per domain account.
Lookafter reserves the right to omit, add or amend the Terms & Conditions at any time without any prior notice.
Lookafter reserves the right to disqualify any participant found to be engaging in fraudulent activities, manipulating the promotion, or violating the terms and conditions.