Home > Empowering Tips > Building Your Own Website with WordPress in 5 Steps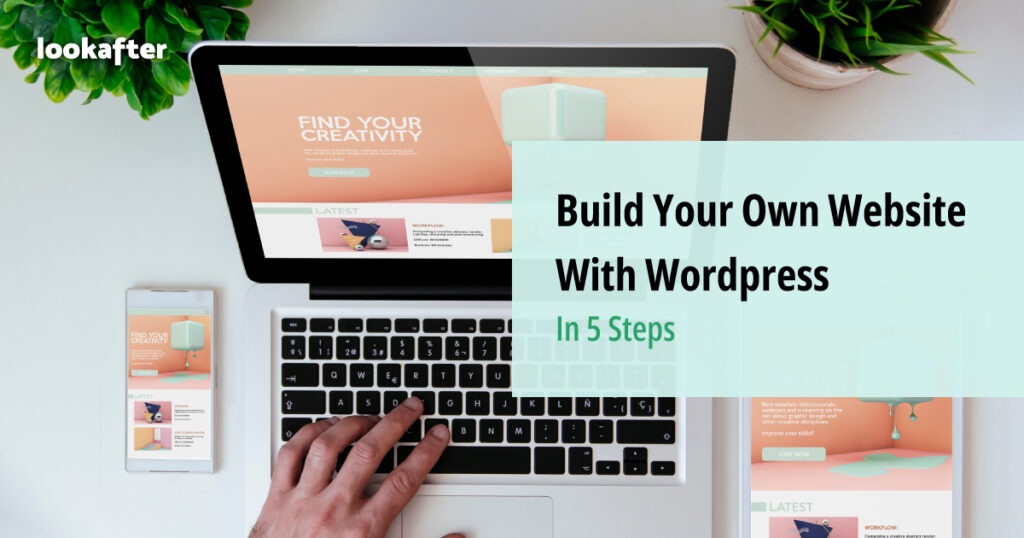 Making a website from scratch seems sophisticated and overwhelming for anyone who is not a developer or a designer.
The good news is, there is WordPress – a free and user-friendly software that lets you build your website without needing to know about programming.
In this guide, we will cover the basic process of creating a WordPress website.
What is WordPress
WordPress is a free and open-source content management system (CMS) that you can use to build and maintain your website on a DIY approach. There is no coding experience required as it comes with a simple and intuitive page builder for content creation.
WordPress consists of the following components:
WordPress core: The core files that make up the appearance and functionality of the WordPress platform.
MySQL database: WordPress uses MYSQL databases to store and retrieve content of your website.
Plug-ins architecture: In WordPress, you can install additional plug-ins for extra functionality. For example, if you want to embed live chat on your WordPress website where you can chat with your website visitors, you can install a live chat plug-in.
Theme: A theme is a set of files that make up the overall design and appearance of your WordPress website.
Admin Dashboard: This is where you access to create and manage your WordPress website content, install theme and plug-ins, and perform other settings related to your site.
Things You Need Before Creating a WordPress Website
Before you can start building a website using WordPress, you need the following two things.
Domain name
A domain name is the address of your website. When someone types your domain into the browser, they will arrive at your website. An example of domain name is lookafter.com.
WordPress Hosting Plan
A web hosting is a service that stores your website content and makes it available on the Internet. As WordPress runs on PHP environment and uses a MySQL database, you need a hosting plan that supports PHP and MySQL.
How to Create a WordPress Website
Step 1: Install WordPress
When you sign up with Lookafter WordPress hosting, you won't need to go through this step as WordPress would have been installed for you. You just need to log in to WordPress admin dashboard with the given WordPress username and password and start building your website.
If you are using a hosting plan that does not cover WordPress installation, you may refer to WordPress Installation Guide.
Step 2: Pick a theme
Next, you need to decide on the design of your website by choosing a theme.
By default, WordPress automatically applies a basic theme, which is rather simple and plain. But you can change it to another theme that you prefer via Appearance > Themes.
Learn more about WordPress themes >
Step 3: Install plug-ins
You can install plug-ins to add additional features and functions to your website, such as SEO and visitor tracking tools.
Plug-ins can be installed and managed at the Plugins page of your admin dashboard.
Learn more about WordPress plug-ins >
Step 4: Create essential web pages
Pages that you should consider creating for your website are About, Contact, Privacy Policy, Products/Services, FAQs – which can be done through the Pages page.
WordPress comes with a default editor that contains sufficient tools for you to create content for your website. You can add text, images, videos and audios that make up a page using the editor.
If you need extended features like drag-and-drop capabilities or have more design control of your content, you can consider installing page builder plug-ins like Elementor Website Builder.
Step 5: Set up navigation menu
Once you have all the essential pages created, you can create a navigational menu at Appearance > Menu, which allows visitors to browse your pages on your website.
Learn more about WordPress menus >
There you go – you've just learned how to build a website with WordPress. All you need is a domain and a WordPress hosting to get started – start by getting a Lookafter WordPress Hosting now!